Audio Visual
Audio Visual Rentals
Sound Systems, Speakers, Microphones, Projectors, and Screens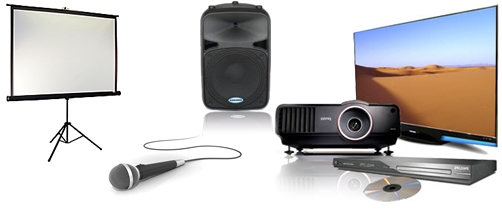 Brands
Anchor
Shure
Mackie
NEC
JBL
Lenovo
Toshiba
Audio Visual Rentals
Let RAC Solutions partner with you to make your next presentation a success with our dependable audio visual equipment rentals! We carefully select the appropriate state-of-the-art equipment to meet your unique requirements. From high-resolution LCD projectors and monitors to visual equipment and sound systems, RAC has it all in-house and available immediately.
RAC provides a vast assortment of cutting-edge projector rental equipment including digital projector rentals and video equipment rental products. Trust RAC as your sole source provider for projector rentals, plasma and LCD displays, video, overhead projectors and more. A high lumen projector and large screen is sure to impress.
Whether you need a projector, a plasma screen / display or you need to rent audio equipment, we make renting audio visual equipment a breeze! We carry the latest in AV equipment from the industry's leading manufacturers including Infocus, Mitsubishi, Toshiba, NEC, Pioneer, Fender, Dalite, Shure and many more. RAC stocks a large selection of audio equipment to get just the right impact, from wireless microphones to complete surround sound systems, with extensive supply of products from Shure, Fender, JBL and others. The right audio equipment rentals can make or break your business presentation!
Complete set-up and technical support services are always available with every order. We provide unmatched value at a competitive price with strategic warehouse location for immediate delivery in the Washington/Baltimore Metro area.
More Info
Our Technical Sales Representatives will work with you to provide the perfect AV Rental  package. Whether you need to rent AV equipment in Washington DC, Baltimore MD, Metro Maryland, Northern Virgina, renting AV Equipment from RAC is a great solution for short-term needs like hotel meetings, limited-time projects or training programs.
Our technical staff will help you select equipment that meets your needs. Call us at (301)-951-0811 to learn more, or request a quote online.
Maryland: (301)-951-0811